BluePallet and Slope Capitalize on Exponential BNPL Market Growth: A Journey from Seed Round to Scaling Success
BluePallet, together with Slope, a leading provider of easy-to-implement buy now, pay later (BNPL) services for businesses, have showcased substantial progress over the last half year. The BNPL market, estimated to be valued at $16 billion in 2021, is projected to expand almost sixfold by 2029, and the symbiotic relationship between Slope and BluePallet is set to tap into this exponential growth.
Slope's superior API technology facilitates swift approval for businesses to integrate BNPL options, a process that takes mere seconds. As soon as businesses receive approval, they can start offering installments at the checkout phase, thus allowing customers to select payment terms that suit their individual needs. Furthermore, Slope is responsible for lending, underwriting, debt collection, and ensuring businesses are paid as soon as their product or service is dispatched.
Following an impressive $8 million seed round funding in November, Slope's founders, Alice Deng and Lawrence Murata, have reported unprecedented growth. Over the last six months, they have recorded a 121% month-on-month growth, a significant increase in their enterprise customers, and a burgeoning waitlist. This growth has allowed them to shift from a minimum viable product to a scalable enterprise partner, leading to increased hiring to accommodate an influx of customers.
Currently, Slope provides financing for over 2,500 businesses across the U.S. and Mexico, including B2B merchant partners like PlastiQ, Frubana, Meru.com, and Go4U. One significant partner contributing to this growth is BluePallet, a company making waves in the tech platform industry. Thanks to these collaborations, Slope's customers have seen their average orders surge by 168%, nearly tripling their basket size. A promising 26% of total gross merchandise value of a marketplace is attributed to Slope, pushing the company to prepare for further scaling.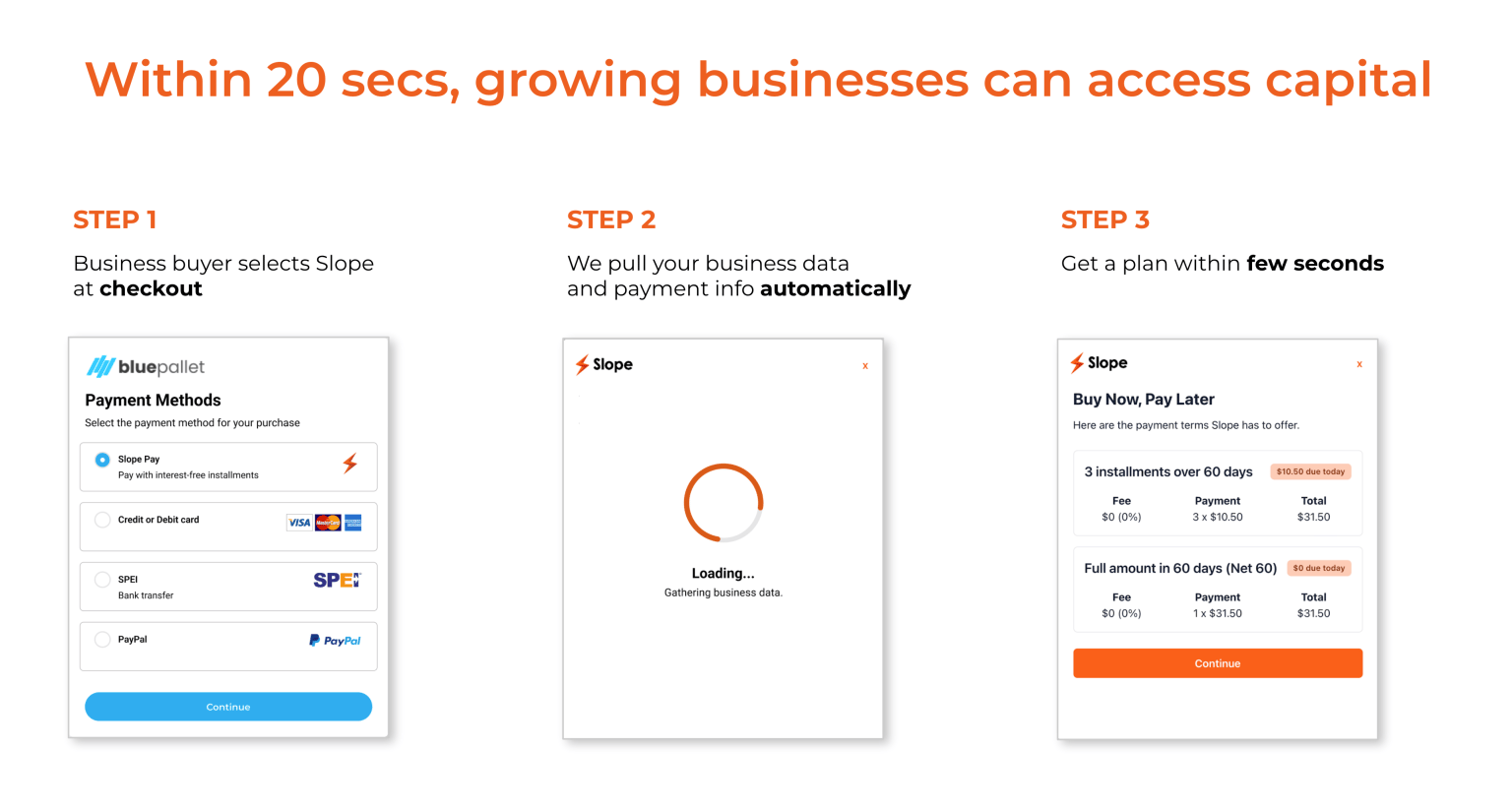 Slope has leveraged the global pandemic's windfall by capitalizing on the shift of business payments online and the increasing comfort of customers with this method. The company differentiates itself from other financial providers through its developer-centric approach, as opposed to a finance-centric approach, leading to improved integration and underwriting processes.
With the goal of streamlining business transactions, Slope wanted to eliminate cumbersome processes like lengthy questionnaires or protracted approval periods for BNPL. Instead, their fully automated underwriting process takes seconds, and the technology integration takes mere minutes.
On top of the impressive growth, Slope announced a new funding round today, amassing $24 million in Series A financing. This was co-led by Union Square Ventures and Monashees, with participation from prominent entities like Tiger Global Management and Global Founders Capital, and a host of founders and executives from notable companies like Dropbox, DoorDash, Plaid, and more. This latest investment brings the company's total funding to $32 million.
Slope, currently an eight-member team, plans to expand to a thirty-strong workforce in the next five months, funded in large part by the new funding. Among the new recruits is Ashish Jain, who joins as CFO, bringing his rich experience from C2FO, SoFi, and Deutsche Bank.
The partnership with BluePallet and the swift attainment of product-market fit were among the many factors that attracted Jain to Slope. He believes in the potential of the B2B market, projected to reach nearly $2 trillion by 2023, dwarfing the B2C market estimated at $1.2 trillion.
This growth and collaboration with BluePallet is just the beginning, as Slope continues to offer a more accessible digital economy, bolstering the democratization of customer-first technology in the marketplace.
Read the original coverage on TechCrunch below:
https://techcrunch.com/2022/04/15/slope-series-a-buy-now-pay-later-b2b-payments/